Nowadays, earning revenue has gone beyond simply placing ads on the website. As a content creator or publisher, one needs to monetize videos using a perfect and reliable video monetization platform. Implementing video monetization can help a video content creator or publisher manage the placement of ads within a video with flawless transition.
Today, delivering a seamless video viewing experience is not enough and a content creator or publisher might need to adopt a well-structured ad monetization option. In this blog post, we will deep dive and learn what video monetization is and how anyone can monetize their content.
What is Video Monetization?
Video monetization is the process of making money by sharing videos with viewers. It is straightforward: insert ads into the video content and generate revenue. Recently, video ads have become the most popular and profitable.
One can monetize content by incorporating ads into existing videos and may start as pre-roll, mid-roll, and post-roll. Every week, 85% of people in the US watch online videos making it a perfect option to get revenue by monetizing them.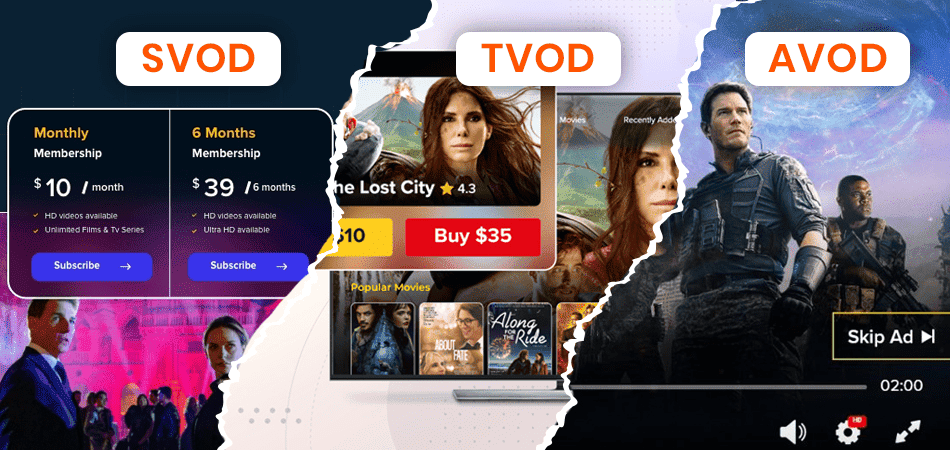 Best Ways to Monetize Video Content
In the past few years, the popularity of video content has increased by leaps and bounds. So content creators and publishers are seeing it as an opportunity to get extra revenue. They can select from various helpful options like SVOD, AVOD, TVOD, Sponsored Ads, and Coupons and Promotions to monetize videos. Let's take a closer look to learn more about them in detail.
Subscription Video on Demand (SVOD)
Every content creator or publisher focuses on earning revenue through monetization models. Among them, SVOD is one of the exclusive monetization models that involves viewers paying a certain subscription fee.
In simple words, SVOD allows users to access the whole library of videos by paying a small recurring fee. Major OTT platforms leverage this model for video monetization and earn more revenue.
Many EdTechs use this platform to sell their courses which can be accessed with a subscription fee. However, there is one drawback of this model, it can't work with sub-standard content.
Advertising Video on Demand (AVOD)
All content creators or publishers can use a renowned method to monetize video content using various monetization strategies. Here, AVOD is one of the best practices to monetize videos and earn revenue through this. Content creators can place their ads in the beginning, middle, or after video content to get revenue based on video views and specific actions.
In this method, no viewer will be charged for watching the videos. A content creator will get revenue through the video streaming platform on which they are playing their videos.
Transactional Video on Demand (TVOD)
Every content creator or publisher needs a video monetization model that charges a one-time fee from video viewers. This is a commonly used method for streaming live events. With TVOD, video streaming platforms share a certain percentage of revenue with content creators.
This TVOD monetization model helps a content creator or publisher set the prices according to their demands. This is one of the strongest reasons for choosing this video monetization model. It simply enables them to reach a global audience and secure the ownership of the content.
Sponsored Ads
In the past few years, Sponsored ads have gained unprecedented popularity. Many content creators and publishers are using this to make money from advertisements. According to this monetization option, a content creator or publisher gets payment from brands for featuring their products in their engaging videos to raise brand awareness.
Coupons & Promotion
Whenever any content creator or publisher wants to make money from videos, they often go for coupons & promotions. It is one of the best technologies in which content creators partner with brands to offer various exclusive discounts or promotions to video viewers.
A content creator gets the benefit of receiving a commission for putting that brand's logo on the video on every successful transaction. Moreover, the brand also gets the publicity it needs. Therefore, this scenario benefits both sides equally.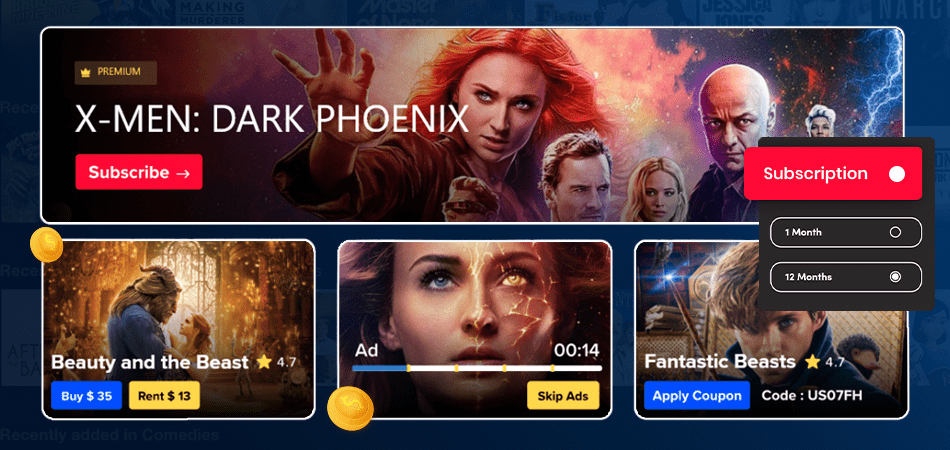 How to Monetize Video Content?
Video on Demand and the live streaming markets are continuously rising which many content creators and publishers are using. They are using that to generate more revenue by showing engaging videos to all viewers.
We have outlined 3 crucial steps that help to monetize video content.
Carefully Plan Content Strategy
Monetizing a video is not as easy as it sounds and every content creator needs to work on it to increase its engagement. In this era, many videos are available for viewers making it 2X harder for content creators to earn money through videos. Therefore, they are required to plan a perfect video content strategy that aligns with the needs of the viewers.
Select an Ideal Platform
Once you have made a content strategy, it is imperative to select an ideal video-on-demand or live streaming platform. Here, choosing a platform that aligns with the goals of a streaming business is mandatory. Here are the factors such as pricing options, multiple monetization strategies, and integrated security features to avoid piracy and other security threats.
Implement Correct Monetization Strategy
Maximizing revenue through video monetization becomes as significant as crafting an effective organic video strategy. It allows a content creator to generate revenue by rolling its video on a pre-selected video streaming platform. Hence, every content creator needs to choose a correct monetization strategy from AVOD, TVOD, SVOD, and Coupons and promotions. Tailoring these strategies is simple if you know who your target audience is.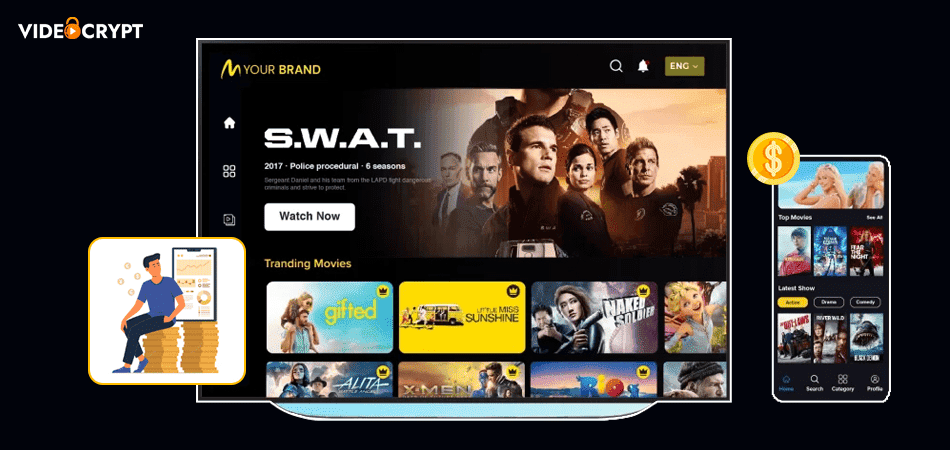 Conclusion
Denying the importance of having a monetization platform that aligns with your business requirements is not justified, especially when a content creator or publisher aims to make money through videos. Here, selecting a platform that gives diverse monetization options is crucial.
Here, VideoCrypt comes as a saviour. It is a go-to solution that helps content creators and publishers monetize their engaging videos. Consider this video monetization platform to maximize the revenue potential of content creators and publishers. Moreover, this feature-rich platform allows them to get user-friendly video analytics to measure, optimize, and enhance their performance.
Want to Monetize your Video Content for your Streaming Business?