Formed in 2021, VideoCrypt is one of the best platforms for secure video hosting and live streaming. We provide a platform to fight piracy for businesses of all sizes to share and store their content online with 360-degree security. Our primary objective is to see a world free from content piracy and offer the highest quality video streaming solutions at a reasonable price. Many businesses worldwide trust us to get robust solutions to the requirements of content protection.
All YouTubers, Ed-Tech, NPOs, Universities, Publications, and Media Companies can use our exclusive services. We have an ideal team consisting of many professionals who will assess and suggest to you the most helpful services we have.
All video content creators can use our services to publish their digital content securely. With high-quality and anti-piracy features, our services will help your business to excel in this competitive world. We provide outstanding services that are listed below:
Mobile Application
Windows Application
Tablet Application
Pendrive Software
VideoCrypt SD Card Software
Google Drive Software
OTT Application
VideoCrypt VOD
VideoCrypt Live
Multi-DRM
Two-Way Streaming
App Security
Anti Capture
Now, let us know more about these services in detail to understand them better.
Magnificent Mobile Application of VideoCrypt
We offer one of its kind mobile application to facilitate eLearning. Unlike common applications, this free mobile app helps to expand your eLearning activities. Provide a greater experience to all the end-users with this incredible app.
Our mobile application boosts the expansion of your eLearning business by improving the user base. You can enter eLearning with our best-in-class eLearning mobile application.
Use our ready-to-use eLearning application to beat piracy with encrypted videos. Moreover, the facility of live and pre-recorded videos, along with secure video streaming, is also beneficial to boost your business.
Some more notable features include the availability of downloadable resources, easy management of the end-users, and providing a safe payment gateway. In addition, chatting securely with students and protected eLearning content are also helpful.
Grow Online with Windows and Tablet Application
Growing in this competitive world is necessary for many businesses, including Ed-Tech and Media companies. However, not everyone can ensure growth in their business by leveraging technology. The best way to do it is by using cloud storage and security.

For an Ed-Tech platform, an ideal way of achieving growth is the use of a Windows application. This application helps to strengthen online through the solutions it offers to all its end-users. In addition, we offer an app that is 100% compatible with Windows OS. Nowadays, many students use Windows applications. Thus, various Ed-Tech platforms use it to provide a better experience to the end-users.
In the same way, having an online presence is a must that can be fulfilled using a tablet application. Our app offers a user-friendly approach to the end-user, and keeping your content safe is indeed helpful to augment an Ed-Tech or any media company.
Enjoy Pendrive, VideoCrypt SD Card, and Google Drive software solutions!
Give your business a digital space to stand and grow with the solutions offered by us. Developing your business is possible in 2022 using our solutions. Take your business forward and improve its ROI with solutions we provide at an affordable price.
Many Ed-Tech platforms use Pendrive software because it can hold solved question banks, assignments, video lectures, etc. Moreover, SMBs can also use this software to train their employees through secured media streaming, especially when there is a scarcity of the internet. In addition, they also use an encrypted SD card and Google drive software to accomplish this goal.
Making a robust online presence is essential and easy for any business in 2022. However, if a business sells premium multimedia content, then it might require a secure platform. We give that security with the Pendrive software solutions. Using it provides a high level of data security and video protection.
Conveying your eLearning content or a message is now simple and safe with our SD card software. Prevent content piracy with digital watermarking and entirely encrypted through special keys.
It is important to use Google Drive software. It will safeguard the precious content of your business. Encrypt media with premium content protection and 24/7 content accessibility. Moreover, our Google drive software is customized to work flawlessly on various platforms.
Exclusive OTT Application Development
We stand as one of the best video streaming services developers. Enjoy a rich and engaging viewing experience with DRM integration and the video monetization service which we provide. Reach a wider audience by going global with our OTT app development service.
Along with other benefits, you will get the benefit of a robust CMS to manage all videos with one software. Additionally, the multi-screen delivery and video analytics are also some of the greatest benefits of having a great OTT platform.
Millions of Android and iOS users are there in the world, and using an OTT app will help you to increase your user base. Our OTT apps will assist you in live streaming, pre-recorded videos, User management, and secured payment gateways.
VideoCrypt VOD and Live Streaming
It is possible to make content exclusive using VOD and Live Streaming services. Power up your business with our video streaming service. Do not stream low-quality videos; instead, adopt streaming in HD quality. We are aware of the fact that it is important to have sufficient bandwidth to ensure successful live streaming. Bandwidth is a metric in streaming to specify the data that can be transferred per second.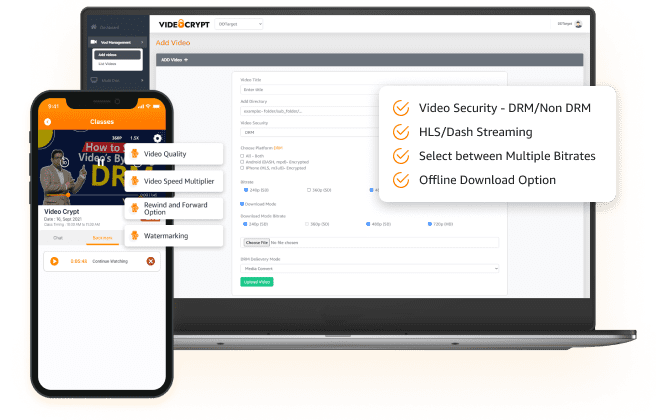 With us, you can experience the best Video on Demand (VOD) with 100% content flexibility and security. Here, any business can build a great application with Video Encryption, anti-capture, and streaming analytics. VOD comes with various video monetization models, including SVOD, TVOD, and AVOD.

While using the VOD, you might come across the term Video Resolution. It is the total number of pixels in the given frame rate. VideoCrypt offers a video resolution of 2k (Quad HD) and 4k (UHD), which is beneficial for all video creators and publishers.
In addition, internet users are also using live-streaming platforms to view multimedia content. Here, they enjoy the best of the features, including HD-quality videos, better control, and safe real-time interaction with the end-users.
Avail of our Multi-DRM Solutions!
Multi-DRM is a cloud-based service and is indeed important for preventing piracy and leakage of content. It supports major web browsers and mobile OS. Many online content providers are applying this service to protect their content.
We offer Microsoft PlayReady DRM, Google Widevine DRM, and AppleFairPlay DRM. DRM allows the end-user to share their content on any device or any operating system. Here, they can protect that premium content from any illegal or unfair usage.
Moreover, Apple FairPlay DRM is a system that uses HLS protocol to allow sharing of video safely over iOS devices or OS. In addition, we also offer Microsoft PlayReady DRM, which is one of the most reliable DRM systems. It is basically a copy-prevention technology that many businesses use to secure their content on Windows devices and operating systems.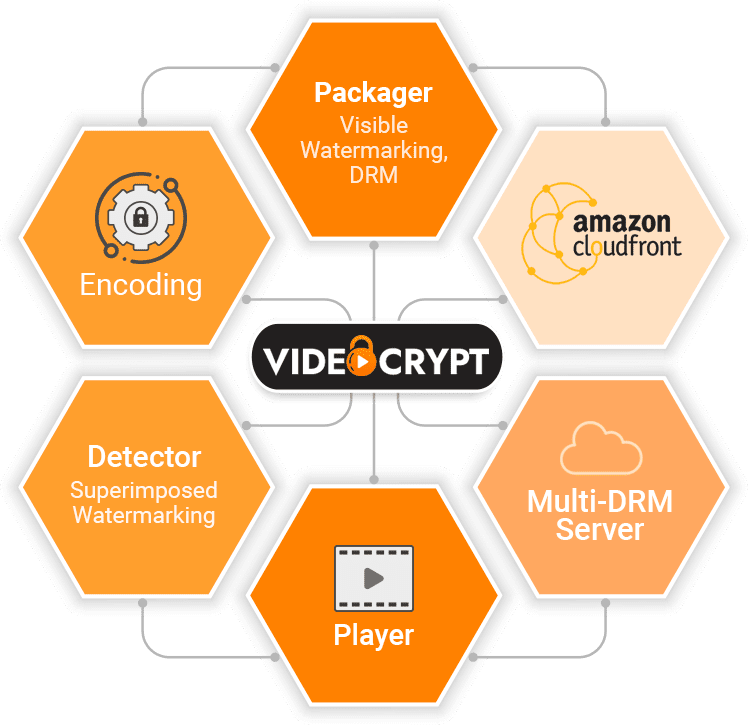 Two-Way Streaming with App Security and Anti-Capture
Connecting and sharing ideas is one of the essential points in 2022. Likewise, two-way streaming is a virtual meeting session that many EdTech platforms use. Here, any attendee of this streaming can join it from anywhere in the world. It is beneficial for webinars, online conferences, and Q&A. It is similar to online meetings.
Experience hassle-free OTT apps with optimum security. This security improves the ROI of your business by not allowing its application to get hacked. Moreover, protection of the content from piracy is also a necessary feature of an application.
Along with this, we also offer the service of anti-capture to prevent the capturing of the end-user screens. Moreover, protection from malicious programs also makes anti-capture an essential technology. This feature will block the request whenever any user attempts to take a screenshot of your application.
AWS Elemental Media Service Partner
VideoCrypt is India's biggest AWS Elemental Media Service Partner that offers maximum discounts while using AWS media services. One of the best factors of using these services is the billing which follows a pay-as-you-go billing model. In addition, it helps in creating a high-impact viewing experience and building on-demand video workflows. 
As one of the biggest AWS elemental media service partners in India, we allow discounts on various AWS services you use. Following are the details of our discount offer on the AWS media service.
Up to 95% discount for using AWS CloudFront
Up to 30% discount for using AWS Elemental MediaConvert
Up to 50% discount for using AWS Elemental MediaLive (On Demand)
Up to 30% discount for using AWS Elemental MediaLive (Reserved)
Up to 50% discount for using AWS MediaPackage

Moreover, We also offer up to 20% discount on overall billing on AWS.
Benefits of using the services of VideoCrypt
Our services are truly helpful for providing a great VSI that will enhance the operations of a business. More benefits of VideoCrypt are given below:
Any enterprise or organization that uses streaming or delivers content with minimum latency can protect its content from piracy to enhance its business operations.
Top-notch content delivery network with minimum latency in the delivery of content.
Offer technical support via call or email to resolve any query about our products or services.
Start a conversation with our experts using the live chat feature by filling in the mandatory details.
Enjoy various video monetization, including SVOD, TVOD, and AVOD.
Get a free eLearning application to power your coaching institute with the feature of being online and streaming using the Amazon IVS service.
Provide all your followers on YouTube or any other video streaming platform with a personalized experience.
Offer digital books or eBooks with the QR code label scanning feature and Video DRM.
Secure the content of your application with the Multi-DRM service we provide.
As one of the biggest AWS Elemental media service partners in India, we allow you to enjoy economies of scale through exclusive discount offers.
Improve the live streaming experience with our OTT applications that are suitable for the entertainment & spiritual world.
Conclusion
VideoCrypt works day in and day out to stop piracy without charging a high price. We know how important it is for anyone's business to secure video content. Therefore, we provide our services so that your business will flourish today without any hindrance. Create and share your content without worrying about piracy of media content.
Our multi-DRM, anti-capture, cloud solutions, VOD, secured video hosting, and OTT services provide a great way for a business. It will boost the activities of your business. All educators, YouTubers, Universities, Spiritual organizations, and media houses can avail of our services and flourish in this digital age.