In today's digital age, if content creators and video publishers seek solutions for enhanced engagement, then cloud streaming is the answer. It is forecasted that the global streaming market will reach USD 223 bn by 2028. It is the most cost-effective way to stream videos and provide the audience with the required message.
Have you ever thought about how you can watch the same video that millions of other viewers are watching? It's the cloud platform that enables videos to scale automatically according to the audience size. Therefore, content creators and video publishers want to get a feature-rich cloud video streaming platform.
In this blog, we will discuss what is cloud video streaming and how it can transform the revenue generation capability. Then, we will explore some of its outstanding features.
What is Cloud Video Streaming?
Cloud video streaming is a technology that follows a process of delivering and storing video content over the internet. This streaming enables a content creator or video publisher to stream live or on-demand videos. It provides the freedom to download cloud video, eliminating the need for video storage and downloads.
While streaming videos from the cloud, content creators or video publishers only need to upload the video content to the cloud server. This cloud-based video streaming is vital as it makes streaming possible at a lower cost compared to other video streaming methods. Cloud streaming has become popular among content creators and streaming businesses to increase video content sharing.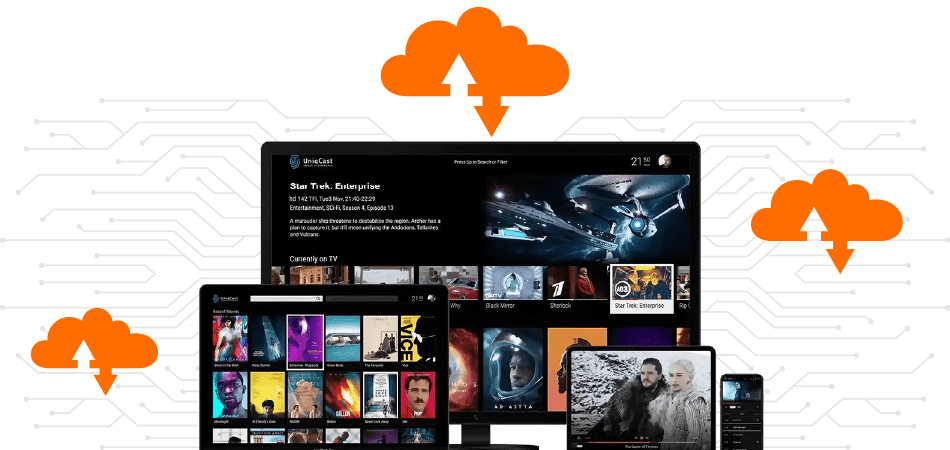 How does Cloud Video Streaming Work?
Every cloud-based video streaming platform uses a network of servers for hosting and delivering videos to the viewers. For video content delivery, this platform uses a Global CDN like Amazon CloudFront. Whenever a content creator or video publisher is ready to stream or upload a video, the video will get transcoded into HLS first to optimize it for broadcasting.
Why Should You Select Cloud Video Streaming?
Currently, cloud video streaming has gained a lot of popularity, especially in the entertainment industry. Many content creators and video publishers are turning to streaming services to ensure seamless video content delivery. Here are some of the best reasons to select cloud-based video streaming.
Cost-effective
Cloud streaming is popular for eliminating the requirement to invest in creating and maintaining costly streaming infrastructure. Moreover, it helps in the reduction of the operational costs as a content creator or video publisher is only required to pay for the resources they use like storage and bandwidth requirements.
Auto Scalability
With a cloud streaming platform, the only required thing is automatic scalability. It is a seamless process that helps to accommodate audience sizes due to a surge in viewership. This feature ensures that video content is delivered to the global audience at low latency.
Fast Deployment
Any content creator or video publisher can easily set up and deploy cloud video streaming. It is one of the best options when it comes to streaming on-demand and live videos. Furthermore, it is more straightforward than developing and maintaining on-premises or in-house infrastructure.
Easily Customizable
Cloud-based video streaming is becoming more and more common these days due to its easy customizability feature. Any content creator or video publisher can find it to be easily customized to meet specific or dynamic requirements. This makes it suitable for use by streaming businesses of any size.
Top-tier Security
Cloud streaming is popular as it prevents unauthorized users from getting access to an encrypted cloud-based video. A content creator or video publisher can protect its videos using DRM security and token-based authorization to stop piracy.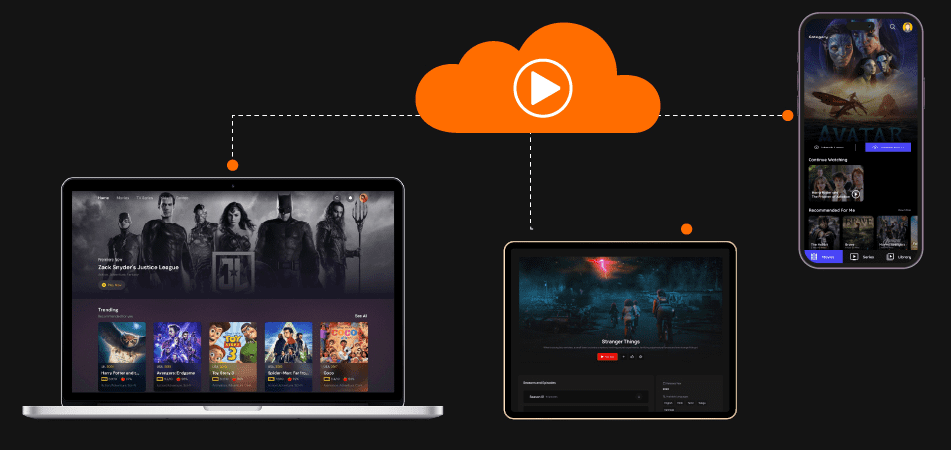 What are the Features of a Cloud Video Streaming Platform?
Indeed, it is crucial to stream videos in multiple qualities to share high-quality videos. However, it is difficult to do it on your own. An ideal cloud-based video streaming platform enables content creators and video publishers to flawlessly stream multimedia content. That platform should include the following features.
Easily Upload and Manage Videos
The cloud video streaming platform should enable content creators or video publishers to quickly upload videos. Furthermore, it allows them to manage the uploaded videos by categorizing and organizing them which assists in easily locating them on a cloud server.
Video Analytics
Video analytics is a must-have feature for any streamer as it provides insights as to how a video is performing. It sheds light on devices viewers use, their demographics, video viewing time, etc. It helps a content creator and video publisher to make a perfect content strategy.
Cloud Video Transcoding
The videos uploaded on the cloud of any resolution should be converted automatically into multiple resolutions known as transcoding. This transcoding should take care of cloud video playback on any OS and internet-based browsers.
Live Streaming
Streaming live videos is an important functionality of a video streaming platform. An ideal cloud video streaming platform will enable a content creator or video publisher to stream videos in real-time in the highest possible resolution.
Video Monetization
Every content creator or video publisher can maximize revenue using monetization options like pay-per-view (PPV) and subscription-based models. This platform should enable content creators to get the ad insertion capabilities to monetize their videos.
Also Read: What is Video Monetization and How to Monetize Online Content?
CDN Solution
A video carries more importance if its content delivery network is robust enough. This platform should have a well-designed and optimized video content delivery network like a global CDN. It enables videos to have zero buffering across any geographical region.
Video Security
Keeping a secured video is important and an efficient cloud streaming platform enables this. This security protects the confidential data of a video through multi-DRM, token-based authorization, and geo-restrictions.
Easy Accessibility
The target audience of a content creator or video publisher can easily view videos according to their convenience. It only requires one thing which is an active internet connection and a compatible device to start video viewing on the go.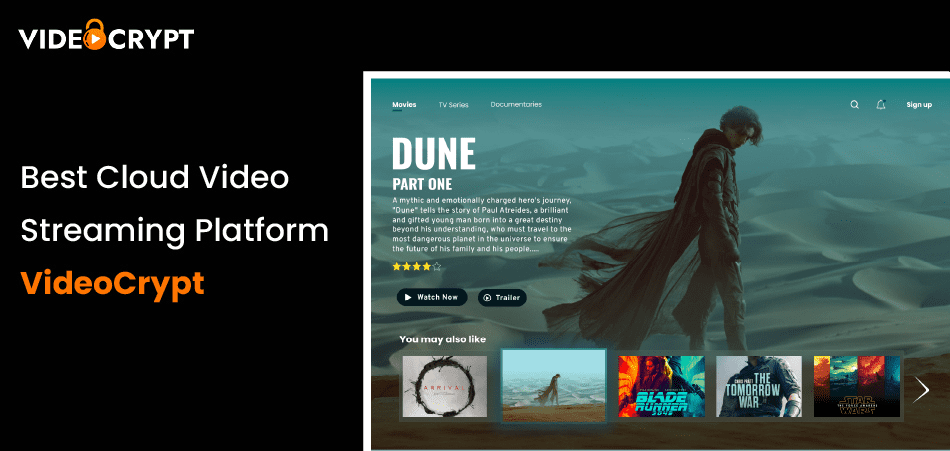 Conclusion
Now, a content creator or video publisher knows what cloud video streaming is and what some of its notable benefits are like global reach, scalability, and cost-effectiveness. However, careful consideration is essential when choosing the best cloud-based video streaming platform and one should do it after considering business objectives and other needs.
VideoCrypt is a go-to platform enabling content creators or video publishers to stream videos on the cloud. This feature-rich platform provides its solutions to users using a pay-as-you-go pricing model. This pricing enables them to earn the much-required revenue for this digital age.